WWE makes some booking decisions that are questionable, at best. One of the internet hivemind opinions is that WWE has "messed up" Asuka, or poorly booked her. The truth is, Asuka has been booked perfectly. That's right. Absolutely perfectly.
Losing to Carmella, you say? Yup.
Off TV for months at a time, you say? Yup.
Makes Becky Lynch tap out back in January of this year, only to vanish and never capitalize on it? Yup.
Everybody has to play a role. Asuka played hers to perfection and deserves credit for it.
One of WWE's most poorly booked matches of all-time is the 2015 Royal Rumble. This is the rumble where Roman Reigns' mega-push arguably took off and crashed instantly. If you watch the match itself, literally the entire fucking point of the match at all times is to get you to cheer Roman Reigns. I've never seen a match before, with 30 participants, where every single major beat of the match is designed to help one individual.
Daniel Bryan enters the match at #10, and gets dispatched extremely quickly by Bray Wyatt. WWE had to know that the crowd wanted a Daniel Bryan win, and after the crowd shit all over the Rumble in 2014 for not even placing Bryan in there, they had to deliver him. However, he must not interfere with Roman's coronation, so he must be taken out right away.
Bray Wyatt knocking out Daniel was a move designed to soften the blow. Bray was white-hot at the time, and the hope had to be that the crowd would shit on this less since one of their favorites eliminated Bryan.
The idea is "Let the crowd get this booing out of their system. Let them chant Dan-iel Bry-an 'till their little hearts break, and by the time Roman hits the ring at number 19, they will be all tuckered out."
Roman enters at 19 to thunderous boos anyway.
At the end of the match, Big Show and Kane, perhaps the single most boring duo you can possibly imagine, easily dispatch all of our heroes. Dean Ambrose, Bray Watt, Dolph Ziggler and more are all unceremoniously dumped by Show and Kane.
This is, of course, designed for you to cheer wildly when your NEW HERO Roman Reigns gets SWEET REVENGE for the fans by taking out that evil Big Show and Kane!
That didn't work. Everyone still booed the ever-loving fuck out of it.
A-ha! But we have an ace up our sleeve, folks! You didn't cheer the demise of Big Show and Kane? Well, you forgot that Rusev, the fake Russian who HATES AMERICA VERY VERY MUCH was hiding under the ring! Surely, you will not boo Roman now! It would be un-American, especially here in Philadelphia, home of the Liberty Bell!
It got booed.
But, no worries, fam. We have one more surprise. Because to help take out Big Show and Kane, we now have the iconic, the un-boo-able, wrestling royalty himself…THE ROCK.
The Rock comes out, and it all leads to one of the all-time greatest fucking facial expressions ever. That "are you seriously booing me, The Rock?" face.
The reason I bring this match up, is because it is an example where the entire main event of the program, featuring nearly the entire roster, is all geared to get over one single superstar. That would be Roman Reigns, who was designed to be the new star of WWE. And it backfired so miserably, so painfully, that it resonates to this very day. To this day, you get "Gotta make Roman look strong" memes because of this type of booking. This incredibly obvious booking that was an insult to the intelligence of everybody watching. It felt like Vince thought he was a carnie, and treated us all like the marks he thinks we are.
We didn't fall for it.
So when WWE tried it again years later, they were much smarter about it. And it worked.
The Rise of Asuka
Asuka showed up in NXT in 2016 coming from Japan. Unable to speak English well, she did her talking in the ring. She presented a brutal style that was unlike any superstar, certainly among the women. Maybe the most intimidating in-ring style in the whole company outside of Brock Lesnar. I used to joke that Asuka thinks wrestling is real.
Her kicks looked legitimately painful and all of her moves screamed "This chick isn't fucking around".
Her entrance oozed this "specialness" to it. That mask flashing on the screen means shit is about to go down.
Even better? She had such a natural, easy-going charisma in the ring. The playful way she'd mock her opponents. The energy she displayed. She wasn't just kicking your ass, she looked like she was legitimately having fun kicking your ass.
Asuka ran through the entire women's division, over, and over, and over. Ember Moon, Nikki Cross, Nia Jax and Bayley all were fed to Asuka, and the crowd ate it up.
"Nobody is ready for Asuka!" would be the catchphrase. And it was true.
Asuka never even put anybody over on her way on her way out of NXT. Just vacated the title. She went to the main roster because she had bigger fish to fry.
This was low-key worse than Roman Reigns has ever been booked. But the crowd loved it. Whether it's Goldberg, Asuka or 2014 Brock Lesnar, we love dominating bad-asses as long as it doesn't feel like WWE wants us to love them.
It's kind of like when your mom starts liking Facebook. Now it's not cool and time to head to Instagram. Or whatever you young whippersnappers use for your little online photos.
Asuka had never been beaten in NXT. No, scratch that, Asuka had never come close to being beaten in NXT.
Eventually she made it to the main roster, where she amassed an unbeaten streak of 914 days, recognized by WWE as the longest unbeaten streak in professional wrestling history.
We loved Asuka. And now it was time to show the world what she could do.
Fulfilling Her Purpose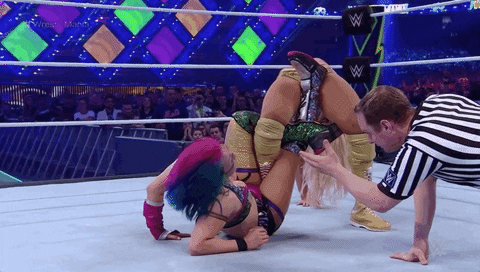 Eventually, with "Cowboy" Bob in attendance, Asuka entered the Royal Rumble in 2018.
In the historic first ever women's Royal Rumble, she won the inaugural event, cementing her place to challenge for the WWE Women's Championship at the grandaddy of them all, Wrestlemania 34 in New Orleans.
But who would Asuka face? She gets to choose between the two current title holders.
On Raw, you had Alexa Bliss as the champion. Adorable, lovable, hatable, weaselly Alexa Bliss.
But Asuka would not choose her. Oh, no, no. For you see, for somebody of Asuka's stature, this was not acceptable. For somebody who held the longest unbeaten streak in professional wrestling history, even longer than fucking Goldberg, Asuka needed to truly test herself. Asuka needed to go against the best.
Asuka chose to face WWE Smackdown Champion, Charlotte Flair.
And at the event, after a hard-hitting classic, to the shock and awe of thousands in the arena and millions around the world, Asuka tapped out to Charlotte Flair.
Asuka never budged when presented with anybody in the world.
Bayley is a multiple time champion. Defeated easily.
Nia Jax is a monster. No worries.
A Royal Rumble filled with 30 women, including the greatest all-time legends to ever compete? Asuka barely breaks a sweat.
But against Charlotte Flair, Asuka lost. It was a great match, but not a gauntlet either. Charlotte has had longer matches against the likes of Sasha Banks and Becky Lynch. Charlotte beat Asuka in 13 minutes to make absolutely, positively no doubt to all viewers who the greatest superstar in this business truly was.
After the match, Asuka got on the microphone to make sure the entire world could hear her.
"Charlotte, you were ready for Asuka!" and hugged her.
And with that, Asuka had done her job.
What was Asuka's Purpose?
When people whine and complain that Asuka is "booked poorly", they don't understand the fundamental point of Asuka.
The entire point of Asuka was to put over the real star of the show, Charlotte Flair.
That's it.
Once you accept that, it all makes logical sense.
Charlotte Flair is the greatest female superstar in the history of professional wrestling. She is tall, blonde, graceful, beautiful, unbelievably athletic, gifted on the microphone and has the pedigree, and star power, of arguably the greatest wrestler of all-time, Ric Flair.
Charlotte is everything you could ever want out of a performer. There is no other WWE superstar that holds even a candle to Charlotte. The only coming close being Ronda Rousey and Sasha Banks (now THERE'S somebody's booking to bitch about).
Every single aspect of Asuka was to eventually put over Charlotte. The dominating NXT run. Every single victory on that undefeated streak. Not putting anyone over on her way out of NXT. Her Royal Rumble victory.
With every single accomplishment, it's just making it more and more impressive for when the real star of the show, Charlotte Flair, makes her tap out.
And there's nothing wrong with this.
The entire time, Asuka was a red herring. As stated above about the Roman Reigns project for Royal Rumble 2015, that entire event was about putting over Roman Reigns, the new star of the show. It was just too obvious, so it failed.
WWE learned from mistakes like that, and secretly booked their own ticking time bomb in Asuka to put over their next major star.
A year after her Wrestlemania 34 victory over Asuka, Charlotte Flair was in the first ever female Wrestlemania main event at Mania 35 in Metlife Stadium. Asuka was in the pre-show battle royal. This is not an accident.
Wrestling is all about building up a monster to put over another star. There's a strange unselfishness about it.
Remember in 2015 when Kevin Owens pinned John Cena clean at Elimination Chamber and we all lost our collective shit? The reason that win resonated so deeply are all the years of Cena victories that made you bitch and moan online. The next time you see some dumbass Reddit thread stating "all the times John Cena shouldn't have gone over", remember that you never have that Kevin Owens moment unless Cena was built that strong.
The entire point of Brock Lesnar was to put over Roman Reigns and Seth Rollins.
The entire point of this Shane McMahon legendary heel run is to eventually put over Roman and Kevin Owens. In fact, Shane is currently getting over 5 fucking people (Roman, Owens, McIntyre, Revival), but shhhh don't tell anyone that, they have to believe MUH X-PAC HEAT is all Shane is getting.
After putting over Charlotte Flair, this is where the hivemind really started to get agitated.
Oh my God, Asuka now lost to CARMELLA?!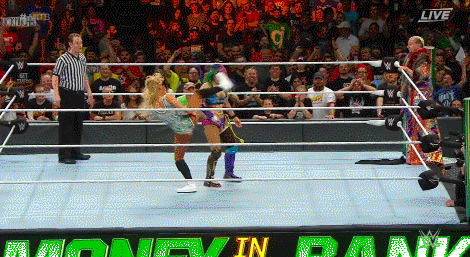 Sure. She has served her purpose. Might as well squeeze out a little more juice to help another young star.
But she tapped out Becky Lynch at Rumble, and then they did NOTHING with her?!
Yup. There was no star worthy of the rub, so Asuka just went and fulfilled her role dutifully one more time, by once again losing to the real star of the show, Charlotte Flair. Again, you need to drill this into your head: Charlotte Flair is the star. Not Asuka. It was never supposed to be Asuka. Asuka was the red herring.
Asuka is not on television for MONTHS now?! Why is she not getting TV time?!
Because the story is over, guys.
Listen, I love Asuka. She's an amazing performer. Future Hall of Fame shoe-in. But the woman is in her late 30's and can barely speak English. Especially considering her limitations, the woman knocked it out of the goddamn park.
But a small little tag team with Kairi Sane is where she belongs now.
And eventually, I'm sure she will feud with Kairi Sane, and I have no doubt who will go over.
Because when it comes to getting over the next generation's young stars, Asuka truly is The Empress of Tomorrow.